Tellurium Q Blue Diamond Speaker Cable – Factory Terminated
Tellurium Blue Diamond (formerly known as Green) is the companion cable to Tellurium Ultra Black and is probably more suitable for slightly bright systems as they have a very slight "mellowing" effect. This can be particularly beneficial with class D and T amplifiers.
This cable has been significantly improved from its original well-reviewed green jacketed version. The original green jacketed design had a ridiculously long burn in time before it showed its silky best and displayed what it could do. Often its "un burnt in" performance was so far from what the fully burnt in version was capable of that it was like two different cables.
Tellurium redesigned the cable to keep its top performance but slash the burn in time and as a consequence, its overall performance has improved too.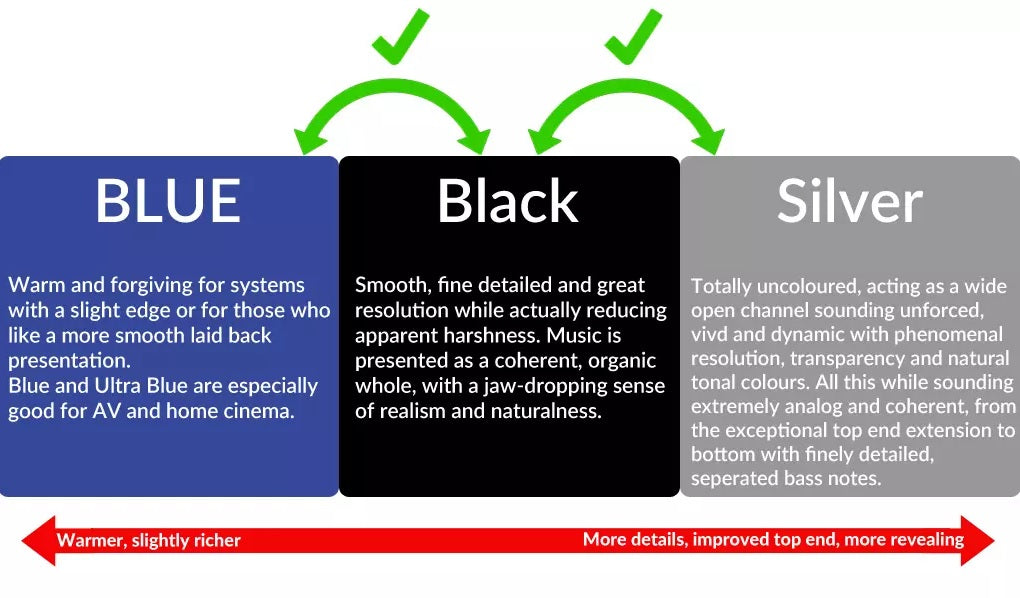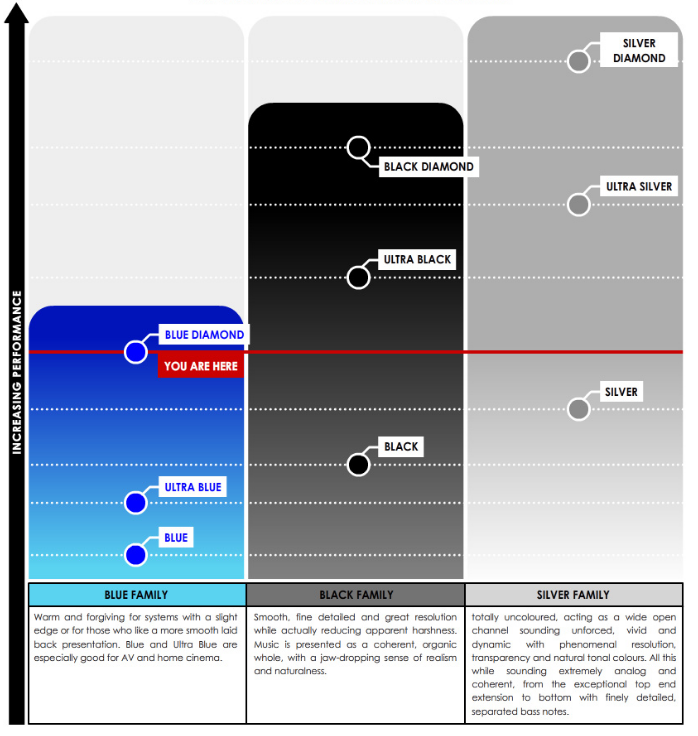 Specification:
Tellurium Q Blue Diamond Speaker Cable – Factory Terminated
Length: Custom
Please note, you need to enter a quantity of 2 for a pair
2 Year Warranty
Termination:
Each speaker cable is terminated to a high standard by Tellurium's Engineers in the UK using quality banana or spade plugs. With recommend customers use Tellurium's gold-plated banana plugs where possible. The design of this connector achieves a full 360° of contact when it's inserted into a binding post maximizing signal flow from the cable into the plug and then from the plug into the binding post.
About Tellurium Q
Tellurium Q is primarily an audio research and development (R&D) company that manufactures unique products. Research and Development are at the center of every decision and every product Tellurium manufacture.
That is why Tellurium Q, design and develop products by starting with a completely blank canvas and ask, "What is really happening with this process in these materials?" They build on solid fundamentals. This is why you may find Tellurium cables look different from what you may expect. They are focused on how to attain a clearer sound. How something looks is of secondary importance as Tellurium work tirelessly for the serious audiophile and music lovers who want to hear more in their music.
Tellurium burst onto the Hi-Fi scene in 2010 and won many coveted awards from industry-leading magazines in the first 12 months such as '5 Globes' for an entire speaker cable range, 'Cables of the Year' by Hi-Fi Plus magazine, and 'Product of the Year' by Hi-Fi World in their Jan 2011 edition.
Nine years on, Tellurium Q has breadth and depth across their amazing range of cables which are now available in 37 different countries. Tellurium Q has received a total of 154 outstanding reviews and fourteen 'Products of the Year' from Hi-Fi magazines world-wide as well as 'Queen's Award for Enterprise' as recognition of Tellurium Q's outstanding export growth.
Tellurium Q never compromises. They will not make a product that is just good or average, it must be exceptional. Unless you can contribute something superior and different why waste people's time? This is Tellurium Q's promise and they are completely serious about it. When you buy a Tellurium Q audio product you will be getting what they believe to be the very best available in its price range.
"The Blue Diamond's refinement addressed vocal clarity, projection and body impressively. Decay of strings and timbre of the acoustic guitar led into spatial awareness including crowd interaction and theatre perspectives. Yet what I found really intriguing was how the clever top end functioned….The point is that the Blue Diamonds relished those fast transients and delivered them with realism and sure-footedness, with that anticipated sharp "crack" delivered rather impressively, equally so with deep articulate bass laden with well defined and executed timbres and textures .."
HiFi Pig 2014
"The Green cables could be described as 'sweet'. That doesn't mean cloying or that they throw any sort of veil over detail, far from it. These, warm, very friendly cables broaden the sound stage and provide, for the first time, an onion skin array of musical detail. That is, bass exhibited a multi-tonal depth and vocals displayed a complexity unheard by both the Blue and Black cables. …ideal for any slightly bright system".
Paul Rigby – HiFi World 2010
".. The green is a significant step ahead of most cables at the price in terms of communicating those nebulous qualities we think of as musicality and performance…"
HiFi + – Issue 75, 2010