Tellurium Q Silver Diamond Speaker Cable – Factory Terminated
The Silver Diamond are the cables that Tellurium were not sure could be made (although they hoped that they would be possible).
Tellurium Q talk about the fact that any cable from their manufacturer is an electronic filter whether you want it to be or not – that is just a fact of life. Being a filter any cable causes relative phase relationship issues for the signal. They have taken there research and development that was outlined in "Our Focus" and just tried to push the concept of a neutral filter as far as they thought it was possible to give you a highly transparent, natural and "real" presentation.
So what's different? Well compared to the Black Diamond, which was their award winning multi-product of the year cable, the Silver Diamond has even better bass definition, improved detail and a more extended top end (without any harshness) and something else which people are finding hard to define simply because they have not heard it before. As one of the first people to hear the cable said there is a "certain rightness" to the sound and that is because they have got closer to achieving their goal in cable development and signal transmission than ever before and you can hear it. Perhaps an analogy would be to talk about the Black Diamond as HD image quality whereas the Silver Diamond gives you 4K Ultra HD quality with 3D effortlessly thrown in for good measure.
This cable behaves differently to their others needing a run through of track three from our System disc to properly embed it before listening on a new system even when it is run in – almost like conditioning the system to make the most of the cable's abilities. It may sound a bit strange that a system needs to be tuned up or put in tune to get the most from this cable but the cable is something quite unique as you will hear if your get the chance to listen to a system using it.
We are very proud to have this cable finally crowning our ranges.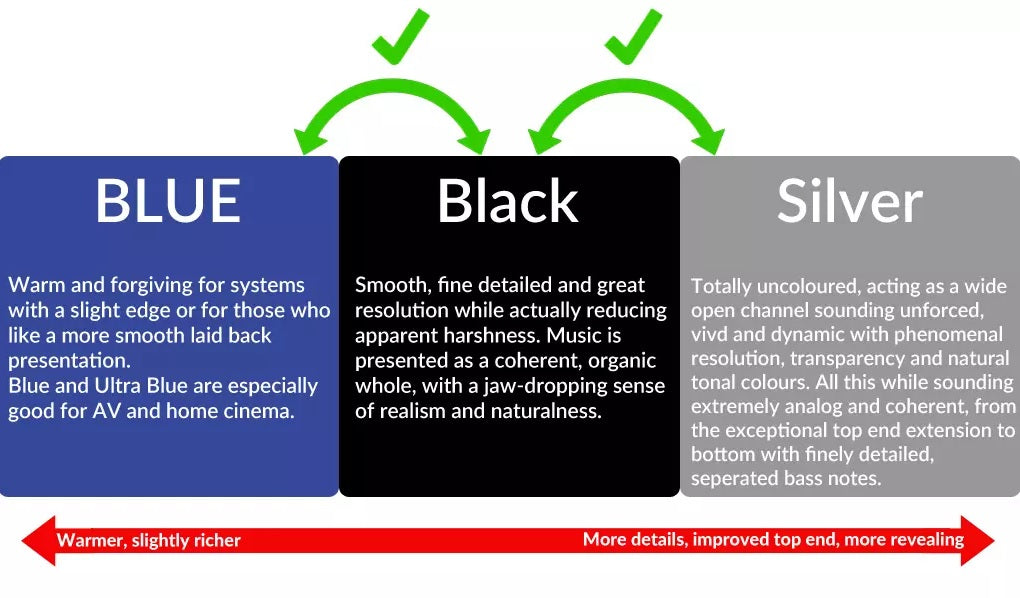 "What makes Tellurium Q so difficult to review is not what makes it perfect for an award. The TQ team play their cards close to their chest, and categorically refuse to discuss almost anything about the cables in terms of design, metallurgy (although we know the incidence of both silver and diamonds in this cable is relatively limited), or construction – not out of secrecy, but rather that it's looking at a cable in the wholly wrong way."(Read More)
Loudspeaker Cable Of The Year – Hi-Fi Plus – November 2016
"Should you be a cable skeptic, this is the one to try. The results are not subtle, with no change in tonality or balance. Just more music everywhere is the word. The Silver Diamond cables impart less of a sonic signature than so many other, so much more expensive cables we've tried. Every cable skeptic we know has been bowled over by the Silver Diamond cables."
Tone Audio Awards 2016
They [Tellurium Q] focus on Silver Diamond's ability to act as less of a filter than most cables, and that this performance is particularly well suited toward high-end systems. When the cables are used in that context, asserts Alan Sircom, "Silver Diamond is extraordinary transparent, satisfyingly open, full-bodied, with an awesome bass, and extremely sweet and smooth across the mid-range."
Hi-Fi Plus Award
"Tellurium Q give the impression that if they were used with lesser electronics, they would dynamic range the devices into an early grave. Silver Diamond does all the things audiophiles want from a good system, and the more Sliver Diamond you use, the more it brings that system into high-end alignment. Strongly recommended!" 
(Read More)
Equipment Review – Hi-Fi Plus – November 2016
"The Silver Diamonds are undoubtedly their best loudspeaker cable yet. They are totally uncoloured – instead acting as a wide open channel between amplifier and 'speakers and so letting more of the music flow through to let you know exactly what the rest of the system is doing." (Read More)
Hi Fi World Product of the Year Awards
"Tellurium Q have surpassed themselves here. It is often said that all cables colour the sound of a system to some extent, but the Silver Diamonds do it to a lesser extent than any other product I've heard so far. Admittedly, £800-a-metre may seem a lot to spend on a set of loudspeaker cables. But I'd say that the Silver Diamonds actually stand comparison with rivals costing significantly more, such as Nordost's Frey 2 (£1800 per metre) which – while excellent – to my ears lack some of the unforced naturalness of the Silver Diamonds."
(Read More)
Jon Myles – Hifi World 2015
"The added resolution, 'rightness' and musical truth they impart, while besting cables costing far more than their price point, is your reward for not needing to read specs. "
Stereo Times – Most Wanted Components Award 2015
Specification:
Tellurium Q Silver Diamond Speaker Cable – Factory Terminated
Length: Custom
Please note, you need to enter a quantity of 2 for a pair
2 Year Warranty
Termination:
Each speaker cable is terminated to a high standard by Tellurium's Engineers in the UK using quality banana or spade plugs. With recommend customers use Tellurium's silver-plated banana plugs where possible. The design of this connector achieves a full 360° of contact when it's inserted into a binding post maximising signal flow from the cable into the plug and then from the plug into the binding post.
About Tellurium Q
Tellurium Q is primarily an audio research and development (R&D) company which manufactures unique products. Research and Development is at the centre of every decision and every product Tellurium manufacture.
That is why Tellurium Q, design and develop products by starting with a completely blank canvas and ask, "What is really happening with this process in these materials?" They build on solid fundamentals. This is why you may find Tellurium cables look different to what you may expect. They are focused on how to attain clearer sound. How something looks is of secondary importance as Tellurium work tirelessly for the serious audiophile and music lovers who want to hear more in their music.
Tellurium burst onto the Hi-Fi scene in 2010 and won many coveted awards from industry-leading magazines in the first 12 months such as '5 Globes' for an entire speaker cable range, 'Cables of the Year' by Hi-Fi Plus magazine and 'Product of the Year' by Hi-Fi World in their Jan 2011 edition.
Nine years on, Tellurium Q have breadth and depth across their amazing range of cables which are now available in 37 different countries. Tellurium Q have received a total of 154 outstanding reviews and fourteen 'Products of the Year' from Hi-Fi magazines world-wide as well as 'Queen's Award for Enterprise' as recognition of Tellurium Q's outstanding export growth.
Tellurium Q never compromise. They will not make a product that is just good or average, it must be exceptional. Unless you can contribute something superior and different why waste people's time? This is Tellurium Q's promise and they are completely serious about it. When you buy a Tellurium Q audio product you will be getting what they believe to be the very best available in its price range.