Tellurium Q Ultra Black II Speaker Cable – Factory Terminated
Even taking in account all the awards that the old Ultra Black speaker cable won, this new version gives a whole new level of performance that is obvious from the first second of listening. Greater detail, more clarity, more organic but still sitting very firmly in the Black cable family.
Specification:
Tellurium Q Ultra Black II Speaker Cable – Factory Terminated
Length: Custom
Please note, you need to enter a quantity of 2 for a pair
2 Year Warranty
Termination:
Each speaker cable is terminated to a high standard by Tellurium's Engineers in the UK using quality banana or spade plugs. With recommend customers use Tellurium's gold-plated banana plugs where possible. The design of this connector achieves a full 360° of contact when it's inserted into a binding post maximizing signal flow from the cable into the plug and then from the plug into the binding post.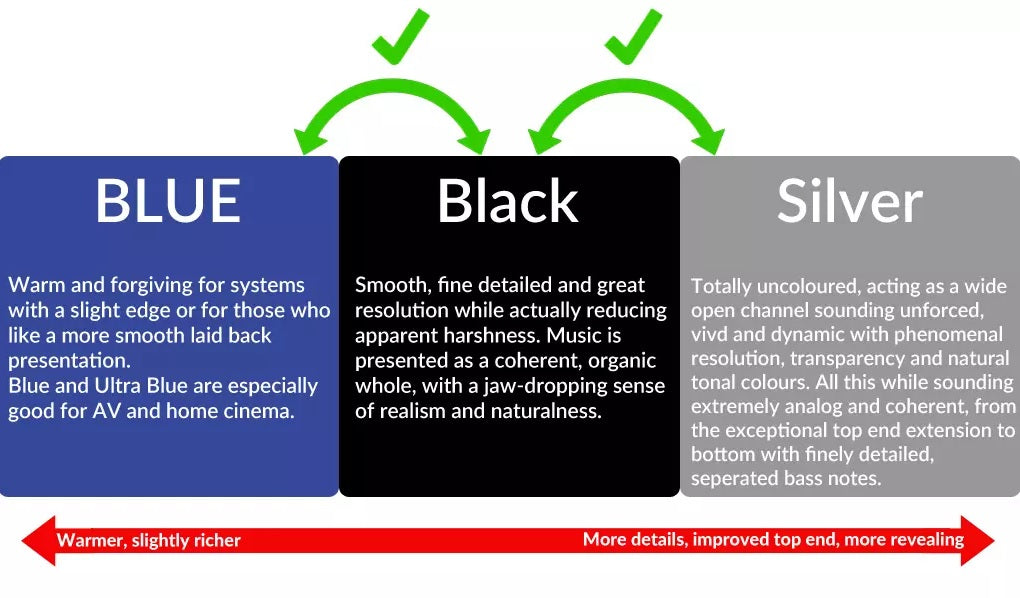 About Tellurium Q
Tellurium Q is primarily an audio research and development (R&D) company that manufactures unique products. Research and Development are at the center of every decision and every product Tellurium manufacture.
That is why Tellurium Q, design and develop products by starting with a completely blank canvas and ask, "What is really happening with this process in these materials?" They build on solid fundamentals. This is why you may find Tellurium cables look different to what you may expect. They are focused on how to attain a clearer sound. How something looks is of secondary importance as Tellurium work tirelessly for the serious audiophile and music lovers who want to hear more in their music.
Tellurium burst onto the Hi-Fi scene in 2010 and won many coveted awards from industry-leading magazines in the first 12 months such as '5 Globes' for an entire speaker cable range, 'Cables of the Year' by Hi-Fi Plus magazine and 'Product of the Year' by Hi-Fi World in their Jan 2011 edition.
Nine years on, Tellurium Q has breadth and depth across their amazing range of cables which are now available in 37 different countries. Tellurium Q has received a total of 154 outstanding reviews and fourteen 'Products of the Year' from Hi-Fi magazines world-wide as well as 'Queen's Award for Enterprise' as recognition of Tellurium Q's outstanding export growth.
Tellurium Q never compromises. They will not make a product that is just good or average, it must be exceptional. Unless you can contribute something superior and different why waste people's time? This is Tellurium Q's promise and they are completely serious about it. When you buy a Tellurium Q audio product you will be getting what they believe to be the very best available in its price range.
TelluriumQ Ultra Black II Speaker Cable Best of 2019 The Ear
"To be honest, sometimes I do struggle to hear meaningful differences between one brand and another or one model and another within a manufacturer's offerings. However, I was genuinely taken aback when I first installed the Tellurium Q Ultra Black II speaker cables."
The Ear Best of 2019

"If you have the original Tellurium Q Ultra Black then this update might take you aback. It doesn't just improve on the original it takes the sound on in leaps and bounds…… I heard the same effect on every track I played – leading me to believe that there is something special going on with these Ultra Black IIs…..
Tellurium Q's Ultra Black II's can be see as one of the best loudspeaker cables on the market at their price"

(Read More)

5 World Review – Hi-Fi World November 2019

"The character of the speaker cables is distinctly pacy; this is very much a rhythm-oriented cable, where timing is given top billing regardless of the music being played. And this makes it very engaging and powerful; my foot started tapping of its own accord and I found myself swept up with the groove on all manner of tracks. Adding the Ultra Black II RCA interconnect reinforced this balance and opened up the soundstage, cymbal splashes became more
obvious, and guitar notes more pronounced. It's very much a leading edge cable, but avoids the forwardness that other cables of its ilk tend to introduce."
(Read More)
Hi-Fi+ Equipment Review – Issue 174
"The bottom line for the new Ultra Black II cables is better value for money, especially when compared to the original designs. That is, the new designs give you more in terms of detail from the upper and lower frequencies but they also enhance and restructure how that detail is delivered to the ear, doing it from a airy and more spacious soundstage that adds new fullness and splendour to the presentation"
Paul Rigby (The Audiophile Man) – May 2019

"The detail, the microdynamics, the musicality, the excitement, the scale of the music, are all massively enhanced through the Ultra Black II. I have a stack of vinyl down from my shelves, just waiting to be played. I am hearing so much deeper into the mix of recordings which I have listened to for years." 
(Read More)
The Ear Equipment Review – February 2019

"It was like when I upgraded my TV from an HD LED set to an Ultra High Definition 4K set. The differences were stunning…..What I can state is that the Ultra Black 11 cables are currently the best I have heard in my system
The Ultra Black II's allow our ears and brain to work as they would in a live environment picking out every nuance and sound cues to create that actual experience, not a close approximation. Let's just say I was hearing so much more into the performance. I genuinely was hearing microscopic details I just didn't know we there before"
Ian Ringstead, Hifi Pig – March 2019
The Tellurium Q Ultra Black cables achieve component status: that is to say, before changing any of your system's components you should audition these cables first"
Christian Bayer – Image HiFi.com
"The extension is incredibly clean and natural and I must say that I didn't manage to find that in another cable until now… I've been listening to some live recordings which were incredibly real, from the sounds in the audiences, to the voices and instruments on the stage. Even the clapping was hauntingly lifelike, putting me right there in front of the audience."
Dan-Alexandru Gheorghe – Head Mania
"naturalness , timbres and dynamics of these connectors are so remarkable that my packing and sending back is really very, very difficult – if it even still happens."
Frank Neu – fidelity-magazin.de August 2015
"Whatever you do, don't audition the Ultra Black. As I said before, once you do, there's no going back."
Steve Dickenson – Hi Fi Plus Awards issue 2010
"What the Ultra Blacks will do for your record collection is to both extract the fine detail from within and reveal its personality. The Ultra Blacks will lay bare your music, getting under the skin of each recording."
Paul Rigby – HiFi World 2010