Tellurium Q Ultra Blue II EU to IEC Mains Cable
Ultra Blue II looks pretty much exactly the same as the old Ultra Blue except for the "II" denoting the new generation cable. Plug in a burnt in Ultra Blue II after the old version and you will hear within seconds why we have upgraded this cable. The sound is fuller, more organic and better balanced in the whole range. The top end detail is still the same but everything else has risen to that performance level.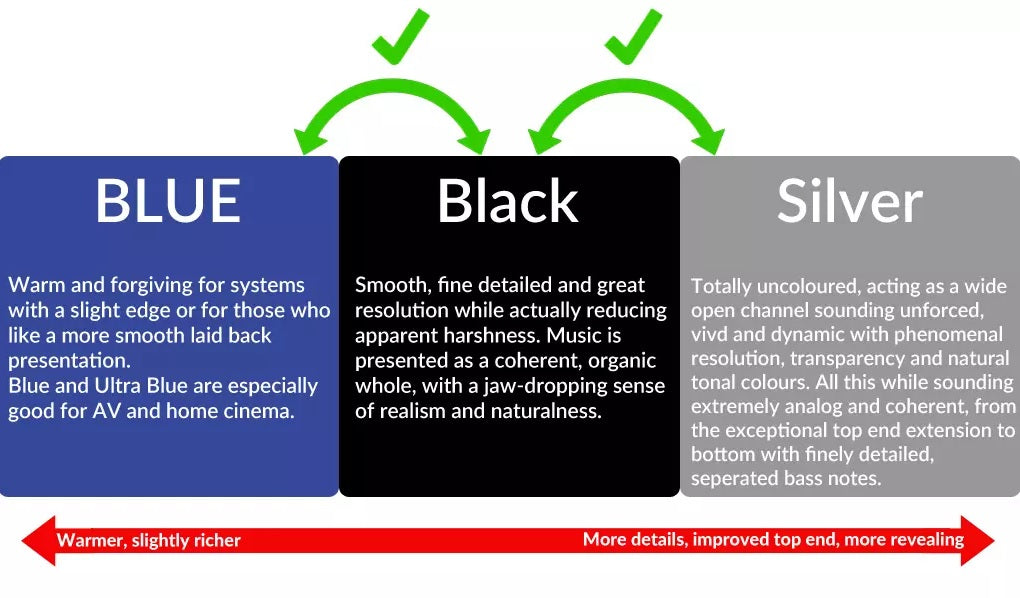 About Tellurium Q
Tellurium Q is primarily an audio research and development (R&D) company which manufactures unique products. Research and Development is at the centre of every decision and every product Tellurium manufacture.
That is why Tellurium Q, design and develop products by starting with a completely blank canvas and ask, "What is really happening with this process in these materials?" They build on solid fundamentals. This is why you may find Tellurium cables look different to what you may expect. They are focused on how to attain clearer sound. How something looks is of secondary importance as Tellurium work tirelessly for the serious audiophile and music lovers who want to hear more in their music.
Tellurium burst onto the Hi-Fi scene in 2010 and won many coveted awards from industry-leading magazines in the first 12 months such as '5 Globes' for an entire speaker cable range, 'Cables of the Year' by Hi-Fi Plus magazine and 'Product of the Year' by Hi-Fi World in their Jan 2011 edition.
Nine years on, Tellurium Q have breadth and depth across their amazing range of cables which are now available in 37 different countries. Tellurium Q have received a total of 154 outstanding reviews and fourteen 'Products of the Year' from Hi-Fi magazines world-wide as well as 'Queen's Award for Enterprise' as recognition of Tellurium Q's outstanding export growth.
Tellurium Q never compromise. They will not make a product that is just good or average, it must be exceptional. Unless you can contribute something superior and different why waste people's time? This is Tellurium Q's promise and they are completely serious about it. When you buy a Tellurium Q audio product you will be getting what they believe to be the very best available in its price range.